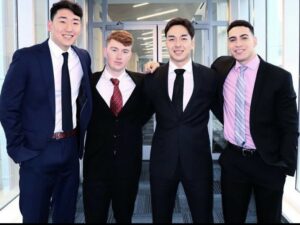 Team Zero Wins 2021 Mayo Business Plan Competition!!!  The Mayo Business Plan Competition finals took place on March 31, 2021.  A full recording of the event can be found
here
.
Congratulations to the team winners Joaquin Garcia '21 (marketing major), Jay Lim '21 (chemistry major), Thomas Fitzgerald '21 (finance major) and Axel Delakowski '21 (biomedical engineering major) of Team Zero. The team won the $30,000 grand prize!
Team Zero's mission is to offer the first renewable, naturally-biodegradable, and home-compostable alternative to single use cups, through use of chitin from seafood waste. Harvested chitin is then modified into chitosan to form a durable bioplastic material. The company will begin with small-scale manufacturing paired with an aggressive social media campaign to generate interest in young college students and progressive distributors. As demand increases, they aim to scale up production using industry-proven techniques as well as increase our list of distributors.
Second place went to Christopher Camacho '21 (finance major) and Dominic Morency '21 (finance major) of team Midnight Munchies. In third place were Shrey Shah '21 (biology major), Rohan Singh '21 (biology major), Afash Haleem '21 (biology major) and Waez Umer '23 (biology major) of team Let's Diversifi. Midnight Munchies and Let's Diversifi won $20,000 and $10,000 respectively.
Congratulations to all participants in this year's competition!!!!