In the 2016 Mayo Business Plan Competition, Elementary Robotics came in third place. Now juniors, the team has successfully launched as an official non-profit business. Below is an interview with chief executive officer, Sarah Sleimen.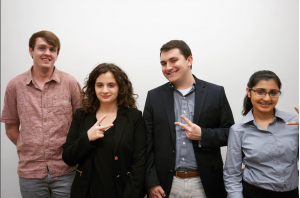 How did the idea for Elementary Robotics come about?
To give you some background, when I was a high school student in North Brunswick, I was on the robotics team. Based on the success of our team, the parents in the school district were asking for an elementary level robotics program. I did some research and could not find any programs that worked with our school district, so I created one.
I beta tested the program in the North Brunswick School District and was met with overwhelmingly positive feedback and demand from school administrators, parents, and students. When I got to TCNJ, I wanted to make this into a business to spread to other schools, so I recruited a team of three and entered the 2016 Mayo Business Plan Competition as an all-freshman team. We won 3rd place and $6,000. Since then, we have been developing the non-profit, Elementary Robotics, for over three years. We have developed a curriculum, training program, sales plan, and a new service. We have just closed our first contract with a school in North Jersey.
Elementary Robotics provides all-inclusive after-school robotics programs to elementary schools. Students get to build and program robots, then compete in a robotics competition where they showcase the skills they've developed in the program. The mission is to show students how fun science, technology, engineering, and mathematics (STEM) can be, to increase the number of STEM majors, and ultimately fill the need for STEM jobs in the US workforce.
Current employees/roles:
Sarah Sleiman, Chief Executive Officer
Dominic Clark, Chief Operations Officer
Skyler Maxwell, Chief Technology Officer
Megha Rathi, Chief Financial Officer
How did you use your prize money from MBPC to launch?
We have been using the MBPC money for registration costs with the government, buying a robotics kit to use for demos, purchasing our domain name, and buying materials.
What has been a major lesson learned since launching?
Resilience is the most important quality in entrepreneurs. As soon as you quit, you lose.
What are some of your major challenges and how are you working on overcoming them?
One of our major challenges includes figuring out our long-term growth strategy and recruiting sponsors. We have been recruiting experienced entrepreneurs to be our advisors to help us figure out our plan.
Key successes?
Key successes after MBPC:
Becoming an official business by incorporating and receiving the 501(c)3 status which makes all donations to the non-profit tax deductible.
Recruited several high-level advisors.
Closing our first contract.
What does success look like? Where do you hope to see Elementary Robotics in one year from now?
Success would be having a few contracts by next year. Ideally, having multiple programs running during winter and summer break.
What is it like going to school full time while launching a new company? What advice would you give to yourself last year before the competition?
It is challenging launching a business while in school full time, but it is not impossible. It is great to have a team with more than two people because I can delegate tasks and get more done. The advice I would give myself would be to introduce team members to each other in person before winter break and definitely start the business plan before the fall semester ends.
What advice would you give students joining the MBPC this year?
Swallow your pride and ask for help, even if you think your business plan is fine. Have an experienced professional take a look at it. We definitely would not have made it to semifinals without the help of Lorraine Allen and Carla Fallone from the Small Business Development Center.
Resilience is key! As soon as you quit, you lose. If you are stuck, ask for help.
Start your business plan during the fall semester.
Learn more here: http://www.elementaryrobotics.org