The top 3 teams presented their business plans to the judges and a lize audience in Mayo Concert Hall on Wednesday, March 30.
The First Place prize of $30,000 was awarded to Will Cunningham and Freddie Hayeck of Witz. AlpineAid earned the second place prize of $20,000 and eLuminate received the third place prize of $10,000.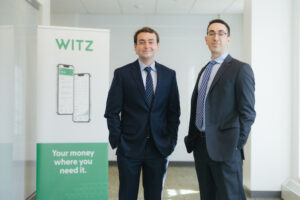 Will Cunningham. Senior, Finance and Freddie Hayeck, Senior, Interdisciplinary Business, of team Witz developed a free, easy to use investment allocation tool. Witz is a mobile application that provides users with a personalized investment allocation that is tailored for each individual. In a world where most people either can't afford, or do not feel comfortable seeking investment advice from wealth managers, Witz brings the knowledge of an investment professional to the average person and helps them put their money where they need it.